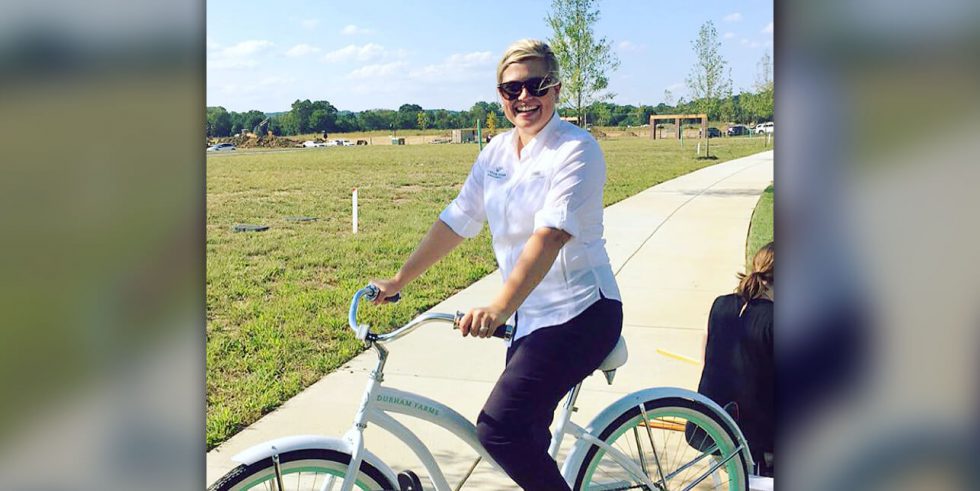 A Big Tennessee Welcome to Lacey Edwards
November 8th, 2016
Residents can expect a warm welcome at Durham Farms, a unique master-planned community from Freehold Communities in Hendersonville, TN, that focuses on engaging its residents within their community. Lacey Edwards has joined Durham Farms as Lifestyle Director, and will lead engagement efforts including lifestyle planning and activities. With an exciting slate of festivities already planned, consider it southern hospitality at its finest.
"I was attracted to Durham Farms' emphasis on building an engaged community," says Lacey. "The idea of front-porch living, building friendships with your neighbors and taking a step back to enjoy life is a concept that feels lost nowadays. I wanted to be a part of creating that kind of community. I also loved Freehold Communities' Vital Communities™ approach to living, which emphasizes healthy living, engagement, connectivity, stewardship and timeless design."
With a background in property management and event planning, Lacey brings a great blend of experience and knowledge to Durham Farms. "I love being able to bring people together and watch people connect organically. From there, friendships are born," she adds.
Combining true Southern charm with a passion for event planning, the native Nashvillian is happy to be creating a fun, inviting environment for residents. "I think everyone wants to feel connected to something," Lacey says. "My goal is to provide a variety of opportunities and experiences for residents to feel engaged with their community and connected to their neighbors. Not only will we have a full calendar of events and programs for everyone to enjoy, but residents can lead clubs on topics that interest them, like book clubs, hiking, wine club and more."
Many activities will take full advantages of the amenities at Durham Farms, including the Farmhouse, a spacious community center with a sweeping veranda and The HUB, a coffee shop-style Wi-Fi café, nature trails, parks, green spaces, pool and children's splash pad.
"The possibilities for involvement are endless at Durham Farms!" says Lacey.
Sign up for our Founders Club and be the first to get information about fun Fall happenings and exciting events at Durham Farms.