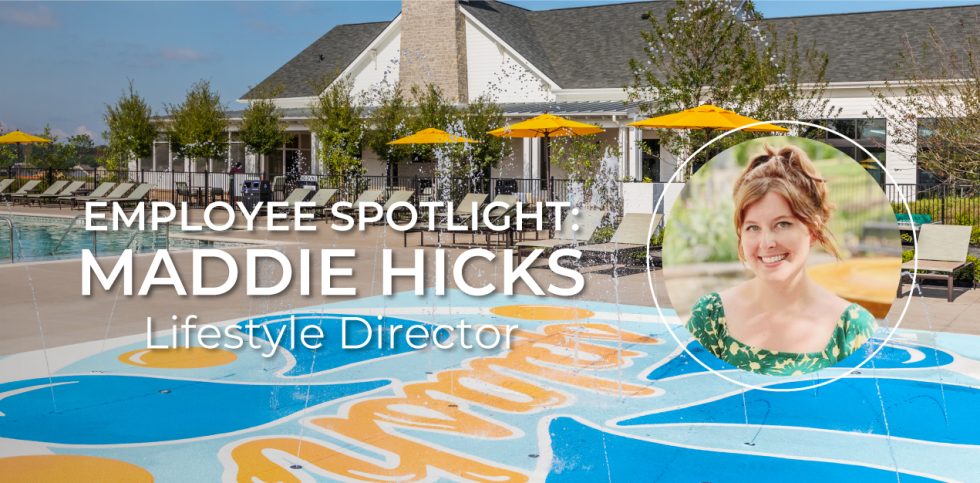 Meet Maddie Hicks, the Lifestyle Director at Durham Farms
August 1st, 2023
A true sense of community is about bringing people together. That's what continues to make Durham Farms so special. Our very talented Durham Farms' Lifestyle Director, Maddie Hicks, makes sure the fun is endless. Let's learn more about her and what she brings to this award-winning community. Maddie is a genuine hometown girl born and raised in Hendersonville, TN, and currently lives in the East Nashville area. In her spare time, she loves cooking, traveling, making art, and spending time with her cat, Kitty. "I attended an artist residency in Greece a few years ago, which was a life-changing experience." That sounds incredible! The next time you go, Maddie, be sure to bring us along!
Lifestyle and community management come naturally to Maddie. And her background in education, library services, and community outreach paved the way for who she is today. "I'm passionate about planning programs and events that unite people and create a sense of authentic community connection. I've spent the last several years creating programming for local libraries, everything from Homeschool Storytimes to Coffee Tastings and large-scale holiday events. One of my favorite events I've ever planned was a Deaf Santa program with the Deaf Church at Brentwood Baptist. We had a fully Deaf Santa and Mrs. Clause, who could sign with the kids and give them the classic Christmas experience in a fully inclusive environment. Those are the best moments working in the lifestyle field – seeing those happy faces! To me, being a Lifestyle Director is all about creating unique and meaningful experiences that improve the quality of life for residents. I find it so fulfilling to offer opportunities for people to create special memories and provide space to gather and enjoy each other."
Working at Durham Farms was an easy decision for her. "I have a soft spot for Hendersonville since it's where I grew up. I used to pick my pumpkins on the farm when I was a kid, long before the Durham Farms neighborhood was ever imagined. I knew that I wanted to transition into neighborhood programming long-term, so it was serendipitous when I saw the job posting. I'm delighted to be a part of the team here and to get to know the people of Durham Farms." One of her favorite amenities is the screened-in porch. "It's the perfect place to cozy up with a good book and relax!" She also loves the people here. "One of my role models is the amazing Fred Rogers, and I always think about his radical kindness and empathy that guided him through everything. I've met so many residents here who embody this philosophy and make the neighborhood a beautiful, welcoming place to live. I appreciate all the friendly faces who have stopped by to meet me in person and offer their encouragement and support."
We're sure she's got big plans for the community! "There's a lot in the works right now! I'm working diligently to plan new events such as a Sip and Swap (Clothing Swap), as well as a Motown Monday party by the pool, which will include Food Trucks, a Lip Synch Competition, and a live DJ. I've started a monthly craft program called Make it Monday, where we experiment with different mediums and create artwork together at the Farmhouse. Also, I've been working on scheduling some live music and other pop-up events. Maintaining the established and cherished Durham Farms traditions like the Harvest Festival and Holiday events is also on the roster.
Maddie not only loves her job but loves but also the community. "Durham Farms is the best of both worlds – you can enjoy the peace and quiet of small-town living and active amenities such as the swimming pool and fitness center. I love that there's always something to do, and it's easy to make new friends at our Book Club, Guy's Game Night, or Ladies' Luncheon – just to name a few.
Durham Farms has something for everyone, including the best new construction homes for sale near Nashville with modern features and active amenities such as signature trails and parks. It's time to come on home to Durham Farms in Hendersonville, TN, and enjoy front porch-friendly living now! Come on by and say hello!