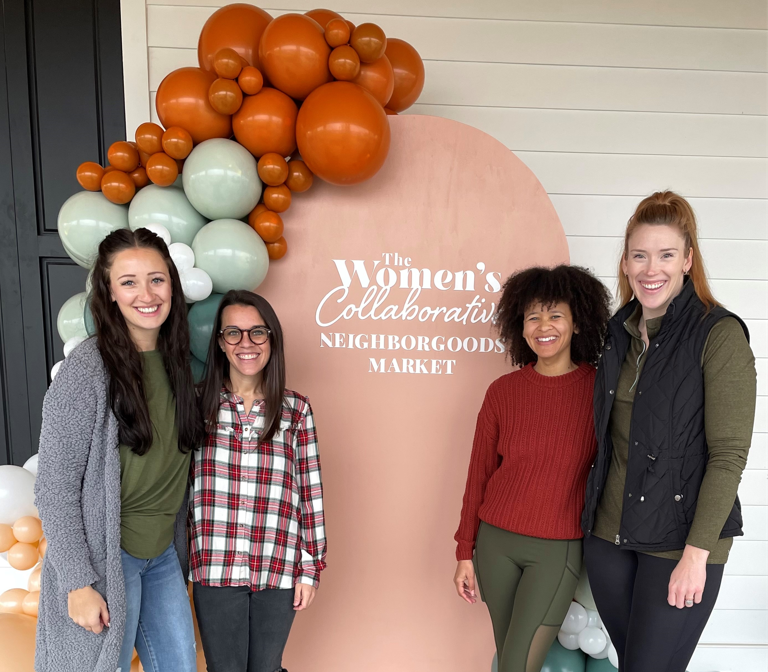 Neighborgoods Market a huge success at Durham Farms!
January 21st, 2022
Durham Farms is designed to bring people together in all kinds of meaningful ways. We've got an abundance of beautiful and welcoming places to gather here. Recently, we hosted the Neighborgoods Market. We love the name of this market. So clever! And it was so much fun! It's operated by The Women's Collaborative — an organization founded by four Hendersonville moms. This inspiring and creative market featured 30+ women-owned businesses with a variety of goods for sale. It was a huge success, very well-attended, and a blast. "Attendees, vendors, and existing Durham Farms homeowners all loved it. Everyone asked us to please do more of these, and we have several vendors who already agreed to participate again. Over 500 people attended the market. We hope to do 2-3 a year," said The Women's Collaborative Co-founder Fabi Cordaro.
"We chose Durham Farms because it's such an easy, accessible, and gorgeous place to connect. It has the built-in exposure from the welcoming neighborhood, and so many spaces to choose from to hold everything we envisioned. It was a dream come true. Over 40 vendors signed up! So everyone could have a good time, we had a kid's zone with inflatables and a cycle class."
The mission for the Neighborgoods Market is "to create an opportunity for local women entrepreneurs and small businesses to share their gifts and talents. Our goal was to help them gain more exposure and sales leading up to the holidays." Cheering on people who have a dream is another big part of Durham Farms. Inspiration permeates our creative community in so many ways inside and out including our Village Green, The Farmhouse, pocket parks, and more. You can feel it in the air. We are so honored The Women's Collaborative chose Durham Farms to be part of their exciting journey.
The Women's Collaborative seems like a very inviting, special, and entrepreneurial organization. So, we spoke to Co-founder Fabi Cordaro to learn the Women's Collaborative's origin story. "The Women's Collaborative based in Hendersonville was created to provide women with resources and tools for personal growth. It's an organization to help women with big dreams make them come to life. Our mission is to provide authentic and inclusive connections, by offering a safe space for all women to support each other, create community, and uplift each other. We are not a club, we're an open, free organization looking for women who are seeking a greater connection, friendship, and entrepreneurial support. If you have an idea for something that you think would help the women in our area, we'd love to hear it you!"
The additional founders include Emma Holland, Madison Tarwater, and Marissa Willis. "It all started in July 2021, when Emma hosted her first Mama's Night Out – an evening of authentic conversation about being a mom and still connecting with who we are as individuals. That evening she met myself, Madison, and Marissa. Emma and I quickly connected on our desire for community and connection. We met for drinks one night to discuss our desire to hold space for women to show up as their authentic selves and to connect with other like-minded women." said Fabi.
"We believe we are better when we support and shine a light on each other. The Women's Collaborative is here to help women in our community thrive in their personal lives and businesses. We exist for all women who crave community and are committed to bringing women together to support and uplift each other."
We had one last question after learning more about them — how do people sign up?! "You can become a contributor by helping to lead a focus area, host an event, speak on a topic or become a participant by attending our gatherings and events. Stay in the loop by following us on Instagram (@thewomenscollab), Facebook (The Women's Collaborative), and join our monthly newsletter! It's fast and easy. Learn more on our website."
Thanks, Fabi for letting us know about The Women's Collaborative, we cannot wait until the next Neighborgoods Market at Durham Farms! Stay tuned for more information. Are you a Durham Farms homeowner or Hendersonville resident looking for a welcoming and front porch friendly environment to host your organization's next event? Or are you looking for a new home community to put down some roots in our small-town friendly community that thinks big? We'd love to chat more about it. Contact us today!