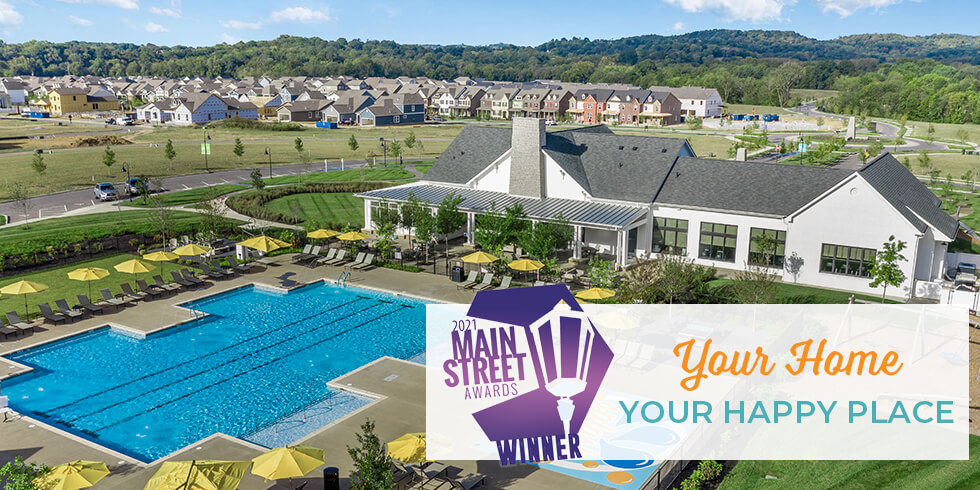 Living in Hendersonville, TN at Award-Winning Durham Farms
June 23rd, 2021
For award-winning living, there's no better place to purchase your next home in greater Nashville at Durham Farms. As one of the best places to live in Tennessee for families, you don't want to miss out on the opportunity of finding your next dream home.
What is Hendersonville TN known for?
Hendersonville is traditionally known for being "The City Of Four Seasons." The area is known as being one of the best small towns in Tennessee to raise a family, and there are many reasons why.
When you move to Tennessee, you'll find many things to do in Hendersonville, including exploring great scenic parks and lakes such as Old Hickory and historic Civil War museums to learn about the people who once lived in this part of the United States.
For those who enjoy shopping, Hendersonville has become a magnet for national retailers, dining, and exclusive boutiques. Shop around town to enjoy retail boutiques with gifts you won't find anywhere else. If you're more creative, then Hendersonville has plenty of painting and pottery studios to take advantage of.
The city of Hendersonville has also been home to several famous musicians, including Johnny Cash, June Carter Cash, Taylor Swift, the Oak Ridge Boys, and Roy Orbison.
Nashville itself is only a short drive away and is one city that attracts tourists from around the world. With the city's blend of business, entertainment, and culture, there's plenty to see and do in town. As a local, you'll have easy access to Music City, a place that is thriving in industries such as music, publishing, technology, healthcare, and education.
Living in Hendersonville, TN
Living in Hendersonville, TN, in Sumner County has its benefits, and it's why Durham Farms is so popular for families looking for an active community with everything they need on their doorstep. Daily living in this picturesque location offers small-town vibes in the heart of middle Tennessee. Downtown Nashville is only a twenty-minute drive away, giving each Hendersonville resident the best of both worlds.
Homeownership and living expenses make Hendersonville easy for affordable living compared to the national average or in larger cities such as New York.
Ideal-LIVING Magazine chose Durham Farms as one of "America's 100 Best Places to Live". That's no surprise when you take a look at the beautiful homes available from the nation's top home builders. From single-family homes to custom-designed homes, there's a home design to suit everyone's tastes, whether it's simple elegance or small-town comfort.
Best places to raise a family in Tennessee 
A neighborhood with a community feel is essential when raising a family in Tennessee. The community around you and your children can make a lasting impression during their childhood, and there's no better place than Durham Farms to create those memories.
The allure of Durham Farms is also its surrounding public school systems. Your child will receive the very best from some of the top-performing schools in the state, as well as outstanding private schools for those interested in private education.
One of the significant benefits of raising a family at Durham Farms is Lightbridge Academy. Lightbridge Academy, which opens in 2022, will offer programs for infants as young as six weeks old, toddlers, and pre-k students. The school's goal is to provide industry-leading programs to help educate and provide relief to those busy, working parents. Your family will make plenty of friends and connections within the neighborhood, an essential benefit for your children.
Families can also enjoy activities in the city's local parks. Drakes Creek Park offers a long list of opportunities for fun and recreation, including rugby, football, softball, soccer, and volleyball. Durham Farms is just five minutes away from Old Hickory Lake, an excellent place for boating, fishing, canoeing, water skiing, or taking a stroll with the family. There are also some fantastic bowling alleys to visit in town at the end of a hard-working week.
You can also find family fun activities in the greater region. For a weekend getaway, the Great Smoky Mountain National Park is just a 3.5-hour drive away, along with family-friendly amusement parks such as Dollywood.
The surrounding area offers plenty to keep the whole family busy but family events and activities are Durham Farms' specialty as well. Kids can bond during Crafternoons and other tailored events. Preschoolers can enjoy story time and art history lessons. The whole family can take advantage of larger events like Harvest Fest where residents enjoy a pumpkin patch, fall activities and games. Kids can see can meet Santa, sip hot cocoa and listen to carolers at the Winter Wonderland event. These are just a couple of wonderful opportunities to make the most out of the neighborhood along with concerts, movies on the lawn, concerts, parades and pool parties.
The fun doesn't stop there. Durham Farms excels at events for retirees or those looking to enjoy adult-only company. Meet your neighbors at book club events, karaoke night, Bunco, Trivia Night and Wine Tasting. Durham Farms makes it easy to enjoy all it has to offer with its activities calendar so residents don't miss out on the fun.
Is Hendersonville a good place to retire?
As one of the best cities in Tennessee to raise young families, it's also a great spot for seniors to retire. Small town, front-porch living is what you'll find with Durham Farms. Whether you need a helping hand from a neighbor or want someone to talk to as you enjoy a morning coffee on the porch, this community is engaging and provides the perfect place to put up your feet as you start your new chapter in the volunteer state.
With tree-lined streets and neighbors who look out for one another, this neighborhood will give you the peace and quiet you've been looking for.
There are many reasons to choose this location as your place for retirement. One of the great benefits of living in Durham Farms is its community events: you'll find activities, exercise classes, and much more. Whether you want to throw a party or invite a few guests over for an evening on the veranda, the Farmhouse at Durham Farms provides the perfect space for all your plans. The space also has a fitness center and swimming pool to get in your daily exercise whenever you feel like it. The wide-open spaces offered in this neighborhood are a great excuse for getting outdoors and enjoying the beautiful surroundings this place has to offer.
If you're interested in discovering your next home in Durham Farms, contact us for a home tour or view pictures of our community online. Drop by to find your dream home in this tranquil and peaceful neighborhood community.